Last updated on November 17th, 2020 at 02:36 am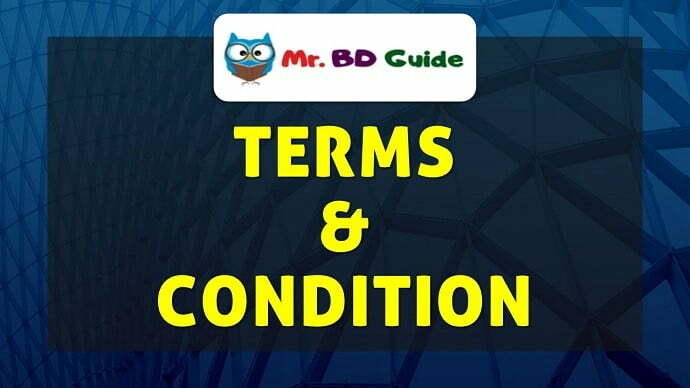 Terms Of Use for mrbdguide.com in Briefly are given below:
Terms of Acceptance:
All webpages available at mrbdguide.com along with all linked pages of this site are owned and operated by admin of mrbdguide.com. mrbdguide.com is a information giving website of Bangladesh.
If you accessed by you then first read the below Terms of Use described following.
Please read these terms of use carefully before using our services.
by accessing this site or using any part of the site or any content or services Like:
On the site, you are agreeing to become bound by these terms of use and conditions.If you do not agree to all the terms and conditions,
Then you may not access the site or use the content or any services in the site.
mrbdguide.com acceptance is expressly conditioned upon your assent to all of these terms of use and conditions, to the exclusion of all other terms. If these terms and conditions are considered an offer by mrbdguide.com and Acceptance is expressly limited to these terms.
1.Modification of terms of use
mrbdguide.com reserves the right, at its sole discretion, to modify or replace the Terms of Use at any time. If the alterations constitute a material change to the Terms of Use, Smart Brief will notify you via email. What constitutes a "material all All kind of changes will be considered at mrbdguide.com main discretion, in good faith & using common sense and reasonable judgment. You shall be responsible for reviewing and becoming familiar with any such modifications. Use of the Services by you following such notification constitutes your acceptance of the terms and conditions of the Terms of Use as modified.
Description of Service
It is Subject to full compliance with the Terms of Use of mrbdguide.com can offer to provide specific services and content, as described more fully on this Site. Services will include, but not be limited to, any service and content mrbdguide.com performs for you and the offering of any materials displayed or performed on this Site (including, but not limited to user comments, text, messages, information, data, graphics, news articles, photographs, images, illustrations, software, audio clips and video clips, which is also known as the article or Content on this Site. mrbdguide.com may suspend,change,or discontinue the Services including any Content for any reason, at any time, including the availability of any feature or content. mrbdguide.com may also impose limits on certain features and services or restrict your access to parts or all of the Services without notice or liability.
The materials used and displayed on this Site, including but not limited to text, software, photographs, graphics, illustrations and artwork, video, music and sound, and names, logos, trademarks and service marks, are the property of mrbdguide.com or its affiliates or licencors and are protected by copyright, trademark and other laws. Any such content may be displayed solely for your personal, non-commercial use. You agree not to modify, reproduce, re-transmit, distribute, disseminate, sell, publish, broadcast or circulate any such material without the written permission of mrbdguide.com
Registration Obligations for You
As a condition to Use Services, you are required to register or subscribe with mrbdguide.com and select a password and screen name (mrbdguide.com User ID and password). You shall provide mrbdguide.com with accurate, complete, and updated registration information. Failure to do so shall constitute a breach of the Terms of Use, which may result in immediate termination of your mrbdguide.com account. You may not select or use as a mrbdguide.com User ID a name of another person with the intent to impersonate that person.
Conduct of user:
As a condition of use, you promise not to use the Services for any purpose that is unlawful or prohibited by these Terms of Use, or any other purpose not reasonably intended by mrbdguide.com. If you are an international user, you agree to comply with all local laws regarding online conduct and acceptable content;
to post or transmit, or cause to be posted or transmitted, any communication or solicitation designed or intended to obtain password, account, or private information from any mrbdguide.com user,to create or submit unwanted email ("Spam") to any mrbdguide.com Users or any URL;
to violate any laws in your jurisdiction (including but not limited to copyright laws);
to submit stories or comments linking to affiliate programs, multi-level marketing schemes, sites/blogs re purposing existing stories or off-topic content;
With the exception of accessing RSS feeds, you will not use any robot, spider, scraper or other automated means to access the Site for any purpose without our express written permission. from third parties or authorities relating to such Content), or for no reason at all. To report Terms of Use abuse, please email: riadmukul@gmail.com
Complaints for Copyright:
MRBDGUIDE.COM respects the intellectual property of others. If you believe that your work has been copied in a way that constitutes copyright infringement, please email riadmukul@gmail.com