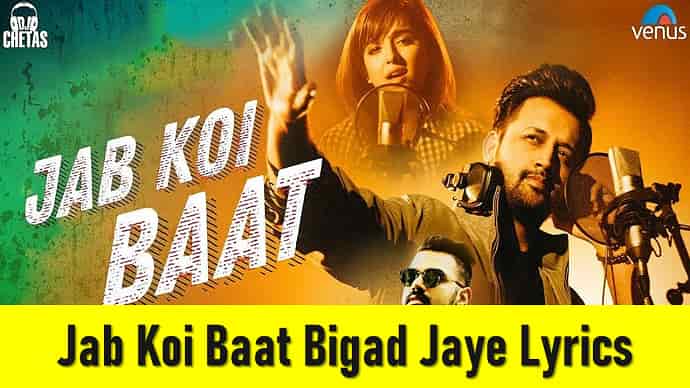 Presenting the hottest romantic song Jab Koi Baat Bigad Jaye Lyrics for you. The song is from the movie Jurm. Originally Kumar Sanu & Sadhna Sargam sung this gorgeous song.
Lately the song was again covered by two marvelous singer Atif Aslam and Shirly Setia. The Original music composer was Rajesh Roshan and the new music composed by DJ Chetas. For original and new both, Indeevar write the beautiful Jab Koi Baat lyrics.
The new version of the song is a music video directed by David Zennie. Champak Jain & Girish Jain produced the song along with Chetas Shah, and Gaurav Chawla as executive producer. Lijo George mixed and mastered the new music video.
The style of the music video developed by Saachi Ramchandani. The song published from the Disruptive Media production agency. Aayushman Sinha who is an on stage talent promoted the song countrywide and the special thanks goes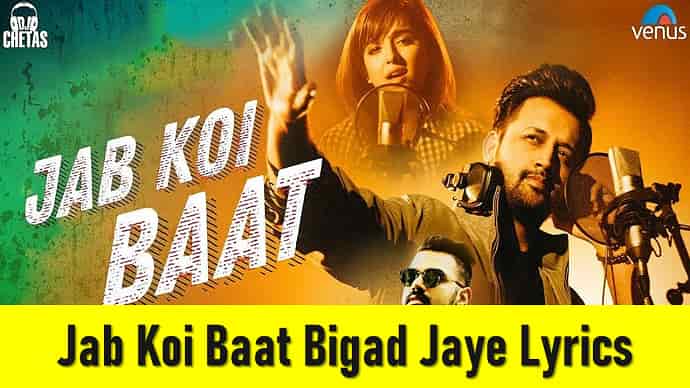 | | |
| --- | --- |
| Criteria | Name |
| Song |  Jab Koi Baat |
| Singer Original |  Kumar Sanu & Sadhna Sargam |
| Singer New |  Atif Aslam & Shirley Setia |
| Movie |  Jurm |
| Music Original |  Rajesh Roshan |
| Music New |  DJ Chetas |
| Lyrics Original and New |  Indeevar |
Jab Koi Baat Bigad Jaye Lyrics By Kumar Sanu
Jab koi baat bigad jaye
Jab koi mushkil pada jaaye
Tum dena sath mera o humnawaz
Jab koi baat bigad jaye
Jab koi mushkil pada jaaye
Tum dena sath mera o humnawaz
Na koi hai, na koi tha
Zindagi mein tumhare siwa
Tum dena sath mera o humnawaz
Tum dena sath mera o humnawaz
Ho chandni jab tak raat
Deta hai har koi sath
Tum magar andheron mein
Na chhodna mera hath
Ho chandni jab tak raat
Deta hai har koi sath
Tum magar andheron mein
Na chhodna mera hath
Jab koi baat bigad jaye
Jab koi mushkil pada jaaye
Tum dena sath mera o humnawaz
Na koi hai, na koi tha
Zindagi mein tumhare siwa
Tum dena sath mera o humnawaz
Wafadaari ki woh rasmein
Nibhaayenge hum-tum to kasmein
Ek bhi saans zindagi ki
Jab tak ho apne bas mein
Wafadaari ki woh rasmein
Nibhaayenge hum-tum to kasmein
Ek bhi saans zindagi ki
Jab tak ho apne bas mein
Jab koi baat bigad jaye
Jab koi mushkil pada jaaye
Tum dena sath mera o humnawaz
Na koi hai, na koi tha
Zindagi mein tumhare siwa
Tum dena sath mera o humnawaz
Dil ko mere hua yakeen
Hum pehle bhi mile kahin
Silsila yeh sadiyon ka
Koi aaj ki baat nahi
Dil ko mere hua yakeen
Hum pehle bhi mile kahin
Silsila yeh sadiyon ka
Koi aaj ki baat nahi
Jab koi baat bigad jaye
Jab koi mushkil pada jaaye
Tum dena sath mera o humnawaz
Jab koi baat bigad jaye
Jab koi mushkil pada jaaye
Tum dena sath mera o humnawaz
Na koi hai, na koi tha
Zindagi mein tumhare siwa
Tum dena sath mera o humnawaz
Tum dena sath mera o humnawaz