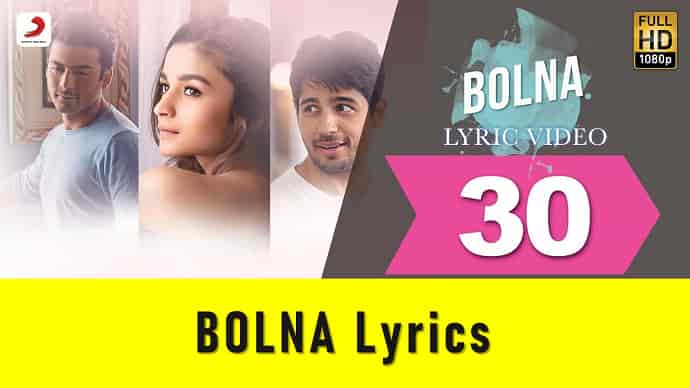 Bolna lyrics written by Dr. Devender Kafir is one of the most popular song in that time. It is a song that you can sing for whom you love the most. You understand that a quality song that can touch your heart can bring your loved one closer to you. Words are very important for a song, emotional placement of the words becomes a romantic song which everybody loves.
The movie called "Kapoor & Sons" is one of those family films which you can relate so much. In the song Alia Bhatt, Sidharth Malhotra and Fawad Khan acted in the leading role. In the film also these three played most important role along with the legendary actor Rishi Kapoor.
Arijit Singh and Asees Kaur sung the soulful song and you know that Arijit Singh got the most emotional voice in the industry. A song on his voice can take the song to a better level. Asees Kaur is also a talented singer and we all know that she has a long path to go in the Bollywood Music Industry.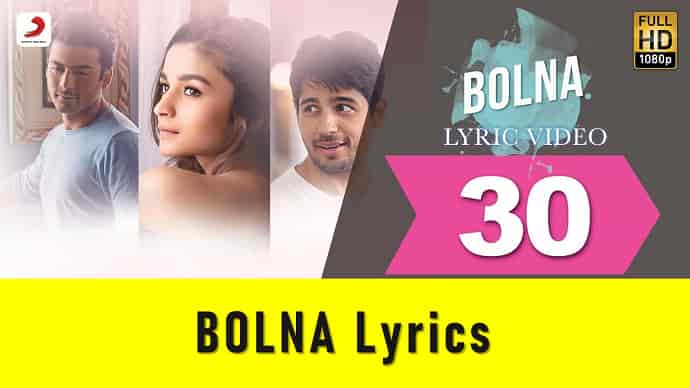 Song Name – Bolna
Movie – Kapoor & Sons
Singer – Arijit Singh; Asees Kaur
Lyrics – Dr. Devendra Kafir
Music – Tanishk Bagchi
Music Supervisor- Azeem Dayani
Director – Shakun Batra
Studio – Dharma Productions Pvt Ltd
Music Label – Sony Music Entertainment India Pvt. Ltd.
Song Programmed by – Tanishk Bagchi
Flute by – Naveen Kumar
Mixed and Mastered by – Eric Pillai at Future Sound of Bombay
Bolna Lyrics By Arijit Singh with Asees Kaur
From "Kapoor & Sons" Soundtrack
Chhuteya na chhute mose
Rang tera dholna
Ik tere baajo dooja
Mera koi mol na
Bolna mahi bolna
Bolna mahi bolna
Tere liye aaya main toh
Tere sang jaana
Dholna ve tere naal
Jindri bitavaan
Kadi naiyo chhodna
Ishq di dor na
Sare chhad jaayen maahi
Tu na chhodna
Bolna mahi bolna
Bolna mahi bolna
Tere sang hasna main
Tere sang rona
Tujhme hi rehna main
Tujhme hi khona
Dil mein chhupa ke tujhe
Dil naiyo kholna
Marke bhi maahi tosey
Munh na modna
Bolna mahi bolna
Bolna mahi bolna
Chhuteya na chhoote mose
Rang tera dholna
Ik tere baajo dooja
Mera koi mol na
Bolna maahi bol na (bol na)
Bolna maahi bol na (mahi bol na)