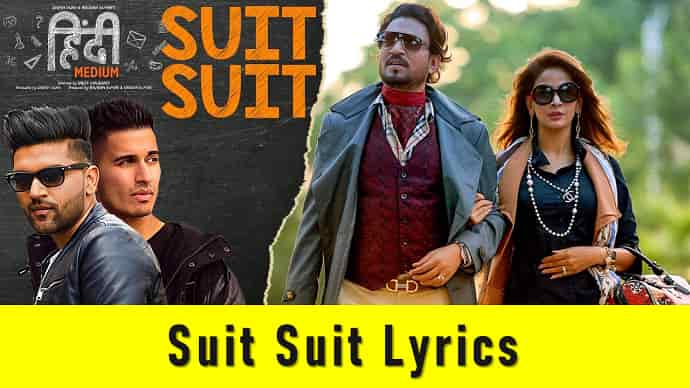 Suit Suit song lyrics is one of the most popular song sung by Guru Randhawa Featuring Arjun. Guru Randhawa and Arjun wrote the beautiful lyrics of Suit Suit song. The song was composed by Rajat Nagpal and Guru Randhawa. The song is becoming one of the most listened song from the movie Hindi Medium.
Saket Chaudhary directed the movie and the movie was produced by Bhushan Kumar, Krishan Kumar, and Dinesh Vijan. On this movie legendary actor Irfan Khan acted on the leading role along with Deepak Dobriyal, and Saba Qamar. The movie released on 12th May 2017.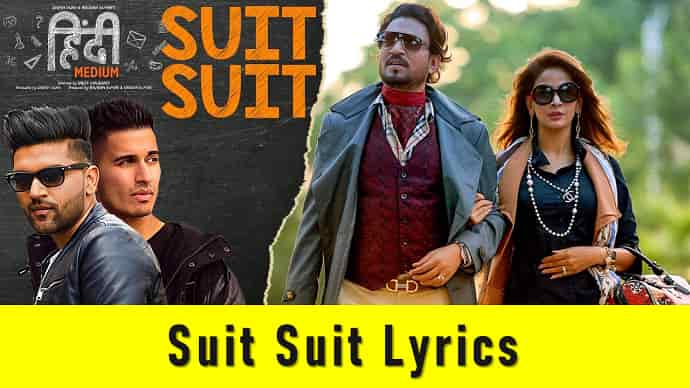 Song – Suit Suit
Singer – Guru Randhawa Ft. Arjun
Lyrics – Guru Randhawa and Arjun
Composer – Guru Randhawa, Rajat Nagpal
Music Label: T-Series
Original Music – Intense
Mixed And Mastered By- Eric Pillai( Future Sound Of Bombay).
Asst. Mix Engineers- Edwin Pillai & Lucky.
Suit Suit Lyrics By Guru Randhawa
Now whatever you wear bae
You can make the whole room stare
But you know that my favourite
Is when you're rocking that desi swag
O tenu suit suit karda
O tenu suit suit karda
Suit karda..
Tenu suit suit karda
Ni tu lagdi punjaban
Lagdi patola
Lagge ni tu sareyan to wakh ni
Tenu suit suit karda (x2)
O tenu suit suit karda
Jhanjharan de shor ne tabahi jehi payi aa
Puchde ne munde dasso kudi kithon aayi aa (x2)
Hai ni bacha phire
Hai ni bacha phire
Phire bacha bacha tere utte marda
Tenu suit suit karda
Now whatever you wear bae
You can make the whole room stare
But you know that my favourite
Is when you're rocking that desi swag
Ooh your little black dress
It don't do it for me
You know how to impress
Just give it to me
No jeans no dresses no tees no
My queen she's in a saree yeah
So keep it desi, like you're in Delhi
You gotta rep the team shorty
I know they're flexing but it's me you should be checking
Cause I wanna make you my rani, rock with me
Black, yellow, red jadon paake ni tu nikle
Mundeyan de sceneyan chon dil odon fisle (x2)
Kehno dil wali gal
Kehno dil wali gal
Dil wali gal kehno Guru darda
Tenu suit suit karda
Ni tu lagdi punjaban
Lagdi patola
Lagge ni tu sareyan to wakh ni
Tenu suit suit karda