Career
How To Apply For A Job In Canada From Overseas?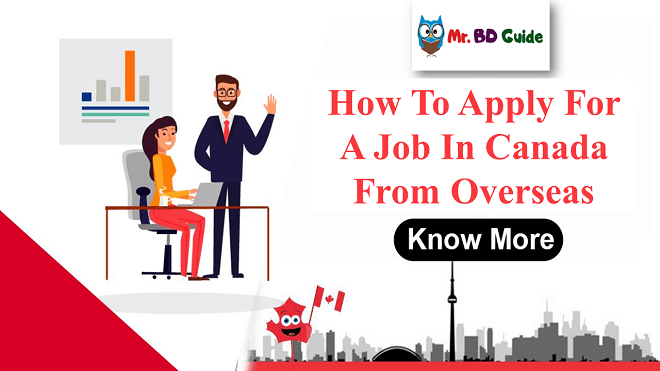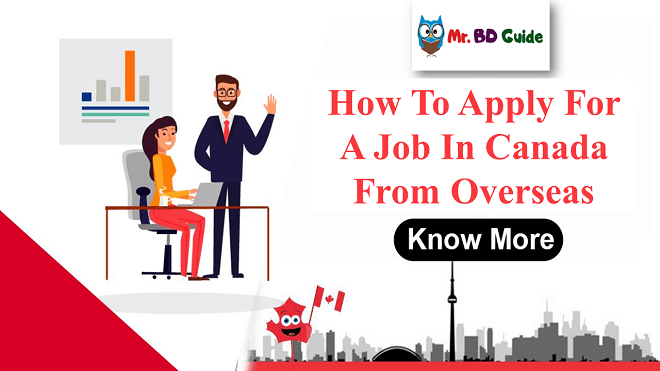 How to apply for a job in Canada from overseas? Here are the six step you must follow,
Step 01: Do You Need a Work Permit?
Step 02: Updating CV
Step 03: Choosing Companies to Apply For A Job
Step 04: Follow Up on Job Application
Step 05: Networking To Get the Desired Job
Step 06: Ensuring All Qualifications Are Accredited
Well, if you are searching for the proper way to apply for a job from outside of Canada, you are in the right place. We will discuss the most actionable and proven way with a dedicated step-by-step guide. Our step-by-step guide contains six (06) actionable steps that you can follow easily.
There are many people who want to immigrate to Canada for a better lifestyle. There are several ways of shifting your residence from overseas to Canada. Among them, the two most popular methods are getting a work permit or a permanent residence program. And in both cases, you will need to find a proper job through the respective job finding channel.
Read More About IELTS General Writing Samples with Answers
You will only be able to get a job in Canada if a Canadian employer willing to recruit you to their company. The process is simple, and the employer will give you a job offer and a legal contract. Once you get the job offer, you can now apply for a permanent residence in Canada or a work permit in Canada. Well, everything depends on the nature of your job offer.
Most employers must send an LMIA along with your job offer and the job contract before they hire you as their employee. Without further discussion, let's move on to our next section.
How to Apply For A Job In Canada From Overseas
Finding a proper stable job in Canada from outside may seem difficult for you. Well, yes, it is difficult for everyone due to the high competition. Millions of people apply for work permits, and permanent residents who are also applying for their desired companies' desired jobs. If you want to stand out among the crowd of those millions of people, you must be trying hard and preparing yourself to take the challenge.
However, yes, it is not impossible to get a job offer if you have skills. If you try hard to get a job offer from any good employer, then you must achieve it. Getting a job offer for the position you are preparing yourself for isn't easy, though. All you need is dedication, hard work, and the right strategical preparation and performance to win the challenge and competition.
Also Read: How To Complete A Survey Without Doing It?
We will be discussing the most effective 06 step-by-step guidelines for you. Before that, let's check the steps we will cover. It will give you a complete overview of the steps you should follow before applying. Our step-by-step guide will help you understand how to apply for a job in Canada from overseas. Let's start by knowing the steps we will discuss.
6 Steps to Apply For A Job In Canada From Overseas
Everybody knows that applying for a work permit in Canada is not an easy task. It isn't easy to know where to start and how to start. If you are reading our article, the meaning is that you want to get a work permit, right? But do you know what kind of work permit do you need? Or what type of work permit can you get based on your qualifications?
Well, there are several Canadian job platforms available online. We will also discuss about them below. We will share the importance and how to update your latest CV before applying for a work permit or job offer. It is essential to make your resume perfect for getting the ideal job offer from the right employer.
Check Now: International Workers Day
We will walk you through the most effective and actionable step-by-step guide below. We will explain all the 06 steps we have mentioned in the previous section. Without further due, let's start.
Step 01: Do You Need a Work Permit?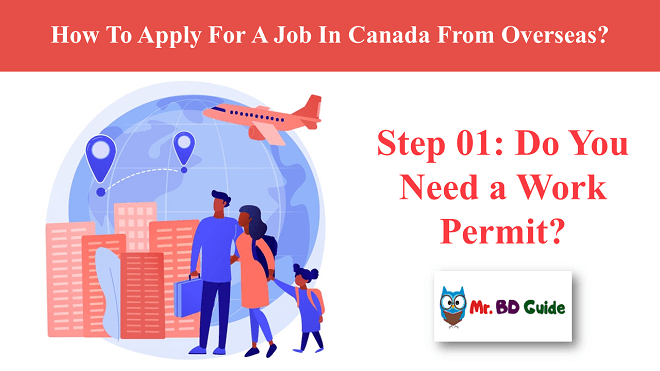 Well, you don't need a work permit for every job in Canada. There are specific jobs that do not need any work permit. On the other hand, there are several types of jobs that require a work permit. As an applicant, all you need to do is that you must know the list of jobs that do not need any permit before you apply. Here's the list you may look at.
| | Jobs in Canada That Don't Need a Work Permit | |
| --- | --- | --- |
| 1. Athletes and Team Members | 9. Foreign Government Officers | 17. Performing Artists |
| 2. Aviation Accident or Incident Inspectors | 10. Business Visitor | 18. Public Speakers |
| 3. Foreign Representatives | 11. Civil Aviation Inspectors | 19. Emergency Service Providers |
| 4. Health Care Students | 12. Clergy | 20. Examiners and Evaluators |
| 5. Implied Status | 13. Convention Organizers | 21. Expert Witnesses or Investigators |
| 6. Judges, Referees and Similar Officials | 14. Crew | 22. Farm Work |
| 7. Military Personnel | 15. Off-Campus Work | |
| 8. News Reporters | 16. On-Campus Work | |
Can't see your job on this list? Not to worry. You can obtain a work permit in Canada through the Temporary Foreign Worker Program (TFWP) or the International Mobility Program (IMP). Work permits under the TFWP are closed, which means you can only work for a specific employer in Canada with a Labor Market Impact Assessment (LMIA).
Work permits under the IMP can be open and closed. However, your employer doesn't need to acquire an LMIA to hire you. Examples of available work permits are the Working Holiday Visa and the Post-Graduate Work Permit.
Check Also: How To Lock Facebook Profile?
If you don't see any job title on the list to apply, you have other options. You don't need to worry, and there are further proceedings. You can get a custom work permit in Canada with TFWP (Temporary, Foreign Worker Program). IMP, International Mobility Program, is also responsible in some cases for providing temporary work permits for qualified people.
In any case, if you find unavailability of TFWP by IMP for any specific employer in Canada who is authorized under LMIA (Labour Market Impact Assessment), you do not need to be worried. It happens often. The government stops and opens temporary job opportunities regularly. However, not every employee needs to have an LMIA to hire you.
For instance, open work permits are for the availability of job openings for Holiday visas and the work permit for postgraduates, etc. These kinds of work permits often start for a few months or days and then stop according to their requirements.
Step 02: Updating CV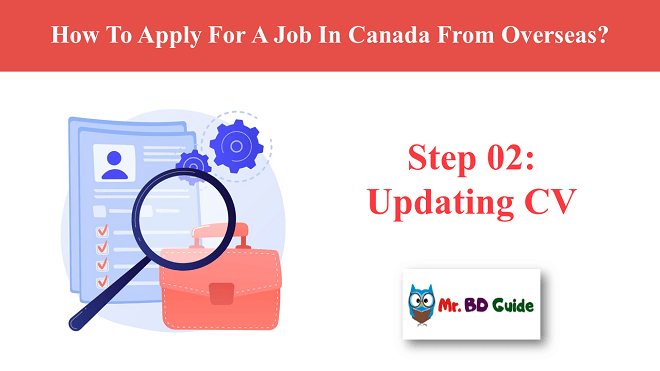 Well, it is one of the most common issues with all of us. We don't really update our CVs regularly due to a lack of awareness of time. We are too much busy with our jobs and forgot to update, which can open a great opportunity anytime.
Another reason for not updating our CV is that we don't have the writing skills to convince any employer. The story can demonstrate that we have knowledge, expertise, and work experience but don't have the talent to present them professionally. Yes, we got your point; you were too busy to improve your skills and increase your expertise with experiences. You didn't make it up to improve your writing skills, as it's not mandatory for real-world works (not for all).
However, to apply for any job in Canada needs a professionally written updated CV. Not only that, it must be well-formatted with a user-friendly presentation. Some employers may ask for references from your previous work experiences. So, to make it simple, you must update your current & previous employment status and details along with it. If you add any references, don't forget to add their contact information and their position in those companies.
Also Read: Is Real Estate Investment Trusts A Good Career Path?
Before you start your job hunting mission, make sure you have everything mentioned in your CV. Add all recommendations from people you have worked with, like LinkedIn allows their users to review their colleagues or subordinates. Make sure you have added only the positives about your works. It helps to convince your employer.
You may think building a CV is not an easy task. Yes, that is correct. But you have to ensure it anyhow. You can get expert help online. Nowadays, many companies are providing professional CV writing. We have also shared a CV Outline hereinbelow. You will get an idea about a proper CV to apply for any job in Canada. Check that out.
Step 03: Choosing Companies to Apply For A Job
You must be very cautious while writing a cover letter for companies to submit. Your cover letter must match their company and build a bridge with your expertise to the respective position you are applying for. If your cover letter can satisfy them, they will likely call you for a job interview and hire you for the position.
Never copy-paste any cover letter. Write a unique cover letter for each company. If somehow any company finds out that you are copy-pasting your cover letter for every company, they will reject your application right away. Please don't do it, be unique and creative, so your first impression makes them feel your potential.
Check out our job listing table to find out the most popular and authentic job listing websites for Canadian jobs.
Step 04: Follow Up on Job Application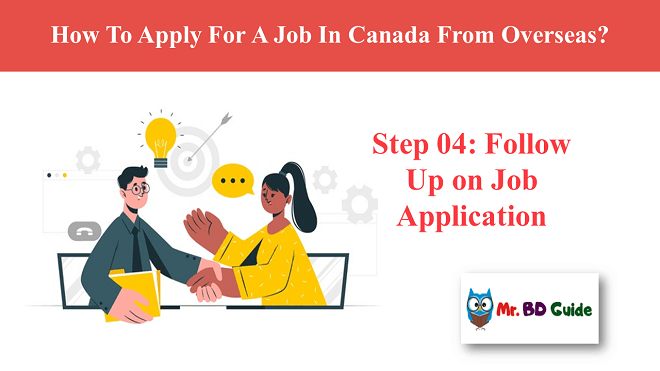 Don't make the same mistake everyone's making. Send a follow-up email after one week or so to find out your job application status. It helps your employer to find out your interest in their company. They may differentiate your application and shortlist your application for their job interview.
Same thing when you get a job interview confirmation mail from the employer. Send them a "thank you" email with some complementary text to let them know that you are happy about being selected for the interview. It will make them happy that you are responsive and potential for the position.
If someone is helping your application to be found, do appreciate them for their effort and help. Who knows, it could be the wild card for your job. They may find your courage and decide to give you the job for the position. No one knows which effort you help get your desired job in Canada.
Step 05: Networking To Get the Desired Job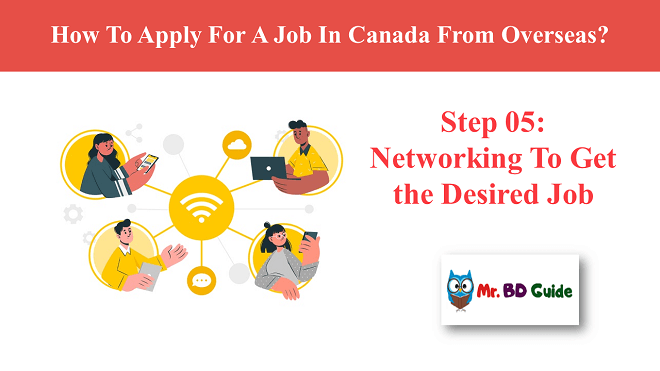 Networking can be simply the most influential factor for getting your job in Canada. You can build your network by merely visiting professional career fairs. Several events happen to help newcomers about achieving their desired employment. Many employers participate in those fairs just to get the right person for their company in Canada.
In events like these, many people in the same industry you are incomes to visit. You may get in touch with them and build a good relationship with them. It could help you are getting the most precious job opportunities. Never ignore anything while applying for any job in Canada. Everything is essential.
The Canadian government and other agencies help people getting their job for new arrivals. You can build your connection with those officials, and you can meet them and understand them. It may help you understand the ultimate power of getting a job in Canada.
Step 06: Ensuring All Qualifications Are Accredited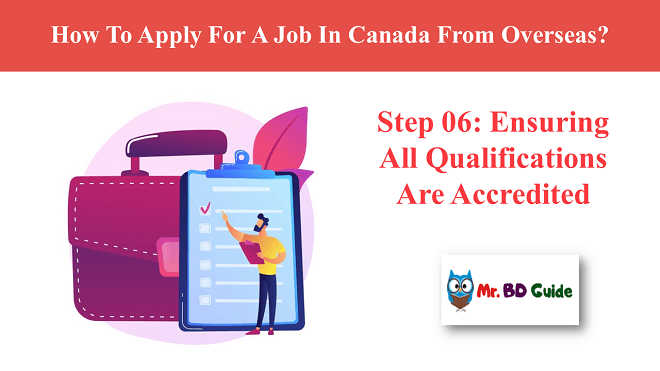 Several high-category professions such as nursing, teaching, and different trades like engineering in Canada are lelgally regulated to protect the public's safety and health. This legal term's meaning is that you need to register with the respective regulatory body to work in a regulated occupation. The regulations are different for the most province in Canada.
Additionally, you must prove that all your educational qualifications are equal to the Canadian standard. It is essential for those job types where having a post-secondary education degree is a crucial requirement. There's a way of getting all your credential accredited Educational Credential Assessment. These assessments are done by official and individual third-party companies like WES -World Educations Assessment. This document process will cost you $200 and takes about 10 to 12 days to complete the process.
Can I get Job in Canada without IELTS?
Most people think they must have IELTS if they want to apply for a job in Canada. Well, it is always authentic. You can apply for any job in Canada without having IELTS.
However, do you want to know when do you need IELTS in Canada? Yes? Okay, if you are trying to apply for a permanent residence program, you will need IELTS. It is because all of the permanent programs in Canada have the policy of having IELTS for all of its applications.
So, if you want to be a permanent resident from outside of Canada, you need to have IELTS, and it's mandatory. Remember that you don't need IELTS to apply for a job in Canada from overseas.
If you have the required qualification and a good connection with your employer, you may get (if you can convince) a formal job offer without having any IELTS. If you want to get permanent residence, later on, you will need IELTS to be eligible for the program.
Getting a Canadian work permit has some sophisticated rules you must follow. There are several levels of qualification stages which you are required to match with. Suppose you have a skill/occupation level of "D," which can be done without an IELTS certification. The level "D" falls under the labor work class, and if your qualification matches with it, you are eligible to get a job offer without IELTS.
Under the "D" level, the applicant must put in additional effort to get a job offer. Most Canadian employers are not really willing to provide any job offers without IELTS because of their language proficiency and expertise in English.
Unlike "D," other levels like O, A, B, C has a unique requirement that will not allow anyone to apply for the job without IELTS. Under those 04 levels, it is mandatory to work whether it is temporary or permanent. You must have IELTS certification.
As well as, if you want to get permanent residence under those categories, you must apply with an IELTS score, and along with your application, you must attach your IELTS certificate.
How to Check Sill Level/Occupation Level?
Every government has its classification of skills/occupation level for hiring workforce from other countries. The Canadian government also has different classification like others, and they have classified it into five skillsets based on different occupational status. They are Zero, A, B, C, D. You may hear it as Canada's NOC or the National Occupational Classification.
If you want to check your occupation level, you must visit their official website of Canadian Immigration. The occupation identification system is very simple. All you need to do is put your skill name and show you the specific code along with the skill level of that particular occupation.
The system will also show you the duties under the given occupation. Additionally, it also tells the future job qualification for the applicant, the meaning is that what qualification you need to upgrade your current job. Besides all these, it will tell you that, with the existing skills/capability, what other jobs you can apply to.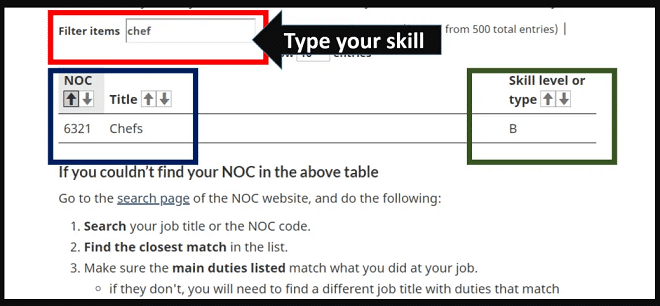 What is the Qualification Required to Fork in Canada?
Well, before you apply for any job in Canada, let's discuss about the minimum qualification you need. The minimum qualification for applying for any kind of job in Canada depends on the position of the job you want to apply for. If you have no previous experience, you may apply for any kind of job as a fresher based on your qualification.
Getting a job in Canada depends on your qualification or skill level. You know it because we have mentioned earlier in this article. If you want to apply for a job that falls under the skill level of "D," you need to apply for a fresher position, and you don't need to have any qualification to do it. Keep a note that in Canada, the percentage of getting a job is meager without any qualification.
Now in the next segment of our article, we will explain those skill levels and categories for you. So that you can understand what it means by those levels, let's check it out first.
Occupational Status Explained
As we have said about different categories of job levels, you can apply in Canada, and we will share insights about all of them. It will help you identify which level is your qualification is. What are the job types you can apply for? Let's hop in.
Occupation/Skill Level D
In this category of qualification, you do not need to have any high qualification or diploma. It is because, once you are selected, the employer will train you in Canada for the respective job. Here are some example job types you may apply under "D," such as cleaning stuff, fruit picker, etc. And most importantly, you won't need any IELTS certificates to apply and get a job like it.
Occupation/Skill Level C
Well, the "C" category is for the semi-skilled job. If you want to apply for any job under this category, you may need to have a high school degree or certification. Along with some training would add extra value to your application. And most essentially, IELTS is mandatory for this category of jobs.
Occupation/Skill Level B
Here's we move to the skilled class jobs in terms of occupations. Yes, category "B" is the mid-level skilled occupational category. You need to achieve and attach a minimum technical diploma degree or certification to apply for any job under this category. The job types under "B" categories are like these, plumbers, painters, chefs, etc. IELTS is mandatory for this category.
Occupation/Skill Level A
Here comes the high qualification contained professional job sections. The "A" category consists of many high-class job opportunities, and you need to be highly qualified to apply for such kinds of jobs. It would be best if you were authorized and certified by respective authorities properly to be eligible for these jobs. IELTS is practically mandatory for these kinds of jobs. Jobs like doctors, engineers, dentists, lawyers, etc., are falling under the "A" category.
Occupation/Skill Level 0
Here's the most precious job professional category in Canada. Most people dream of applying for these jobs. The ZERO "0" occupation category consists of managerial posts, such as restaurant manager, hotel manager, and other managerial top class positions. You must achieve proper certification in the specific category to apply for such kind of job position. And last but not least, it does require an IELTS certification with high points.
Where to Find List of Canadian Companies?
Want to find the list of Canadian companies to apply for jobs there? If your answer is Yes, you are in the right place. Most people often get confused regarding this particular issue. Even when we researching the topic of this article, we have seen many queries regarding that. And thought about adding a dedicated section to help you.
There are so many ways you can find your dream job in different Canadian companies. We will share some of those popular platforms where you can find renowned Canadian companies to get job opportunities. Before you go for those web platforms, we recommend searching Google for your respective jobs in your preferred categories. You can also search for companies hiring employees from outside of Canada
While you search process, make sure that you are searching for job opportunities based on your qualification. It helps to get companies that are hiring qualified people like you based on the experience and skills.
Now, check the table below. We have a list of 100 top employers in 2021 in Canada. Start finding them on Google and check if they have any job opportunities. Find the position that matches your expertise and skills. If you find any, then do apply for them following their procedures. Remember, without following their guidelines correctly, and they may reject your job application.
Canada's Top 100
Employers
1. 3M Canada Company
41. Accenture Inc.
81. ABB Canada
2. Adobe Systems Canada Inc.
42. Agriculture Financial Services Corporation / AFSC
82. Alberta Health Services / AHS
3. Aboriginal Peoples Television Network Inc. / APTN
43. ArcelorMittal Dofasco G.P.
83. Bank of Canada
4. BASF Canada Inc.
44. BC Public Service
84. Bell Canada
5. Best Buy Canada Ltd.
45. British Columbia Investment Management Corporation / BCI
85. Business Development Bank of Canada
6. Canada Energy Regulator
46. The Canada Life Assurance Company
86. Canada Mortgage and Housing Corporation / CMHC
7. Canada Revenue Agency / CRA
47. Canadian National Railway
87. Capital One Canada
8. Cargill Limited
48. Cascades
88. CBC / Radio-Canada
9. CIBC
49. Cisco Systems Canada Co.
89. Citi Canada
10. The College of Physicians and Surgeons of British Columbia
50. CWB National Leasing Inc.
90. Danone Canada
11. Desjardins Group / Mouvement Desjardins
51. Diamond Schmitt Architects Inc.
91. Digital Extremes Ltd.
12. Emera Inc.
52. Employment and Social Development Canada
92. Enbridge Inc.
13. ESIT Advanced Solutions Inc.
53. Export Development Canada
93. FreshBooks
14. Fidelity Canada
54. Ford Motor Company of Canada, Limited
94. Galvanize
15. GlaxoSmithKline Inc. / GSK
55. Greater Vancouver Food Bank
95. Hatch Ltd.
16. Health Canada / Santé Canada
56. Hospital for Sick Children, The
96. House of Commons Administration
17. Imperial Oil Limited
57. Innovation, Science and Economic Development Canada
97. Irving Oil
18. Ivanhoé Cambridge Inc.
58. Kellogg Canada Inc.
98. Keurig Canada Inc.
19. KPMG LLP
59. K+S Potash Canada GP
99. Labatt Brewing Company Limited
20. Laurentide Controls Ltd.
60. Loblaw Companies Limited
100. L'Oréal Canada Inc.
21. Mars Inc.
61. McCarthy Tétrault LLP
22. Medtronic Canada ULC
62. Mondelēz International
23. Mott MacDonald Canada Limited
63. Novo Nordisk Canada Inc.
24. Nutrien Inc.
64. Oppenheimer Group
25. PCL Construction
65. Pembina Pipeline Corporation
26. PepsiCo Canada
66. Pomerleau Inc.
27. Procter & Gamble Inc.
67. ResMed Halifax ULC
28. Rio Tinto
68. Rogers Communications Inc.
29. Royal Bank of Canada
69. RSA Canada Group
30. Salesforce
70. Samsung Electronics Canada Inc.
31. SAP Canada Inc.
71. SaskTel
32. Schneider Electric Canada Inc.
72. Sekisui Diagnostics PEI Ltd.
33. Shopify Inc.
73. Simon Fraser University
34. Stryker Canada ULC
74. Suncor Energy Inc.
35. TD Bank Group
75. Teck Resources Limited
36. TELUS Communications Inc.
76. Thomson Reuters Canada Limited
37. Toyota Motor Manufacturing Canada Inc. / TMMC
77. Université de Montréal
38. University of New Brunswick / UNB
78. University of Toronto
39. Verafin Inc.
79. West Fraser Timber Co. Ltd.
40. World Vision Canada
80. Yukon, Government of
Even if you fail to respond from their websites, there's another way to get job opportunities following the next step here. Simply go to Linkedin.com and build a good profile. Add your expertise, skills, and certifications and showcase them on your profile.
Get a personalized CV for you that you can attach to any job application whenever you need it. On LinkedIn, you can search for any companies based in Canada and find if there are any job openings. If you get any, then apply right away. Move on to the next segment, and get other opportunities.
Job Search Websites
Another way to find job opportunities is job searching websites, where many employers publish their job openings. Canadian employers are mostly using those top job platforms and websites to release their openings and hire through them.
Sometimes, those job platforms handle the entire job application process and provide those applications to the respective employers. From those, employers shortlist their preferred applications and call them for an interview or other proceedings. Check the below table and get the list of the most reputed job platforms for Canadian job opportunities.
General Job Listing Websites in Canada
1. Canada Job Bank is a great all-round job site and is one of the most used job searches around
2. Career Builder is a general job listing website that can keep you up to date with the latest job postings
3. eJobbo matches your skills and qualifications with jobs ads in Canada
4. Eluta is another useful company that shows you Canada's top 100 employers
5. Simply Hired offers both part-time and full-time job postings
6. Monster offers great career assistance with expert advice to help you find the right job
7. Indeed is a global company that caters to industries of all shapes and sizes
8. Wow Jobs can advertise up to 100,000 jobs at any time giving you the option to find the perfect one for you
9. Workpolis has been around for more than 15 years to help small and corporate sized business find the perfect candidates
Do All Jobs in Canada Need an ECA?
Of course not. Not all jobs in Canada need an ECA (Educational Credential Assessment). If you can read all those occupational categories, you will understand about it. However, there is some occupation, and you need an ECA of Canada. Those occupations are,
Medical Professionals
Physiotherapists
Teachers
Social Workers
Only the qualifications mentioned above will have to go through some regulatory assessment process. You know that ECA meaning is that Educational Credential Assessment which meant to assess your educational qualification. You can apply only after you pass those assessments successfully for every job under those professions mentioned above.
The assessment may take 6-months sometime. You may need to keep in mind that it is time-consuming, and you need to prepare for it while processing your immigration timeline.
Another thing you need to be careful about that, province to province, the requirements may vary. Meaning is that it would be a wiser decision if you can be sure about that, in which region you want to apply for a job? After deciding that, you need to check all those requirements about application and certifications so that you can prepare them at once and apply for your preferred job.
FAQ: Applying For a Job In Canada From Overseas
We are getting many queries related to finding job opportunities in Canada. Our researchers also found many questions that people are trying to get an answer on different social media platforms. So, we have decided to answer all of your questions in one place. So, here it comes, go through the below questions and answers. If you don't find your answer here, please comment on us. We will add your question in the next update.
1. How Do You Get a Job Offer in Canada from Overseas?
You can get a job offer in Canada from Overseas following a few steps.
First, you need to find a Canadian Employer who is willing to recruit you as their employee.
Secondly, Make sure your employer is applying for an LMIA (Labour Market Impact Assessment) from Employment and Social Development Canada (ESDC).
Thirdly, The ESDC will assess your application and decide whether the employer is eligible to recruit an employee from overseas to fill the position
2. What is the Easiest Way to Get a Job in Canada?
You can get a job quickly in Canada by following a few steps closer. Steps are,
Research on companies/employers you want to get a job in.
Go to different job fairs and match those offers with your qualification to find the best opportunities
Browse different job searching platform and find the best job opportunities based on your qualification
Contact a Canadian employment agency, and they will find you the right employment opportunity.
Lastly, follow the steps we have explained in our article. It will help you get the best job.
3. Can I Apply for a Job in Canada Without a Work Permit?
Yes, you can apply for a job in Canada without a work permit. You don't really need a job offer during your application process. If you are applying to be a part of the Express Entry System, you don't need a job offer. You only need to register with the Employment and Social Development job bank of Canada. It helps people to get connected with many Canadian employers. If you are aged between 18-30 years, you can get the chance to work in Canada without any worries. You can virtually do a job in any field or position to achieve valuable practical work experience
4. Can a Friend Sponsor Me to Canada?
No, A friend cannot sponsor you to Canada. Only a person who falls under the "Family Class" category can sponsor me to Canada. The eligible members allowed in "Family Class" are spouse, common-law partner or conjugal partner, and dependent children. These are people who can sponsor you in Canada.
5. What Are the Documents Required for a Canada Work Permit?
Several documents are required to include with your employment application. If you want your employer to approve your application and send you a job offer, you need to attach the below document.
A valid passport with a validity of more than 6 months from the planned date of arrival in Canada.
Two recent passport-sized photographs
Educational qualification certificates
Proof of professional qualifications, including work experience
Proof of having adequate financial resources to cover their expenses during their stay in Canada
The medical examination is required to be done from registered hospitals.
Application fee
Applicants must have to convince the immigration officers that they would return after completing their employment duration.
6. Which Job Has the Highest Salary in Canada?
Well, several jobs have the highest salary in Canada. Here is the top paid job category list in Canada for you to keep you updated and inspired to apple for a proper job in Canada.
Physician/Doctor – 150,000 CAD/year
Lawyer – 135,000 CAD/year
Miner/Oil and Gas Driller – 77,250 CAD/year
Dentist – 75,000 CAD/year
Registered Nurses – 74,000 CAD/year
Final Words: Applying for a Job in Canada from Overseas
We are at the end of our discussion on applying for a job in Canada from overseas. So, far we have shared everything you need to know about it before applying. Please make sure your documents are properly assembled at the right place.
Your documents are your application, and it presents yourself to the employer. Please do not mismatch anything without reason. If you read the entire article carefully, you know how to apply for a job in Canada from overseas. If you still have information, please re-read the article. You will understand.