Black Eye
How to Cover a Black Eye [Step-by-Step Guide]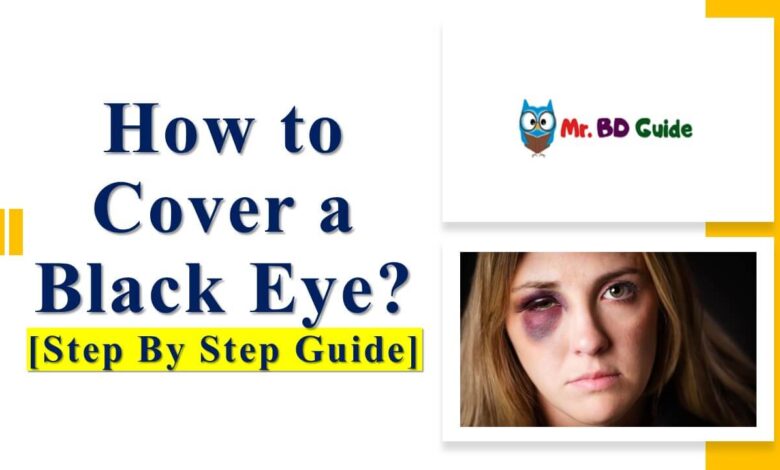 How to cover a black eye? Black eyes, often called shiners, are bruises caused by injury to the tiny blood vessels surrounding the eye. It takes around two weeks for a black eye to heal after being caused by anything like a blow to the face, an allergic response, a sinus condition, or facial surgery.
How To Cover a Black Eye Quickly?
Though it may seem like an eternity, a black eye may be concealed with concealer until it heals. Simply use a concealer in green and another that is the same color as your skin.
Maintaining proper care for your black eye entails daily applications of a cold compress to assist decrease swelling, the use of pain medication if necessary, and a trip to the doctor if you experience any severe discomfort.
Do Not Use Concealer Until the Swelling Has Gone Down
Do not try to treat a black eye until the swelling has gone down, which might take three to four days. Before putting on eye makeup, ensure sure you can completely open your eye.
The reason is concealer used on a swollen black eye might slow the healing process. A black eye requires immediate attention and a cold compress over the area for an extended period. If you plan to wear cosmetics, you may as well skip it now since your efforts will be futile while you are applying the cold compress.
Green Concealer May Be Applied with Fingers or a Brush
Under each eye, use the concealer to create a triangle whose tip is on your cheek. To hide the triangle, gently blend it with concealer. Applying green concealer over a black eye will help neutralize the bluish-green and reddish-purple undertones.
Apply the green concealer to your eyelids and beneath your eyebrows if the bruising spread there. A green concealer may be dabbed on with your finger or a concealer brush, and then blended in with a blending sponge.
First, Apply Foundation, Then Concealer
Create an inverted triangle beneath each eye and integrate it into your skin in the same way. If you do not want a greenish sheen to your complexion, you will need to completely hide the areas where the green concealer was used.
When using green concealer to cover up bruises around the eyes, always follow up with a concealer in a shade that is a close match to your complexion. Simply dab the concealer on with your fingers or a concealer brush and blend it in with a blending sponge, like before.
Concealer in the shade that best suits your complexion will cover up the green tint of the first layer. You will not need to worry about anybody seeing your black eye.
Concealers and dark circles in a variety of shades are widely available in drugstores and pharmacies if you do not already have any. If you are having problems finding the appropriate shade, ask the salesperson for assistance or meet up with you.
To Apply Makeup to Your Healthy Eye, Just Do It Again
When you are satisfied with the tone you have established, apply the same two concealers to cover the area around your other eye. Your face will seem more balanced and symmetrical as a result, as well as less evident that you are attempting to conceal a black eye.
If you use the foundation of the same color on the rest of your face as well, it will be easier for your eye makeup to blend in with the rest of your face.
Use a Setting Powder to Seal Your Makeup Look
Lightly put setting powder over your makeup with a setting powder brush. Eyes need a little more setting powder than the rest of your face, so give that area extra care.
Using a setting powder can help keep your makeup in place and eliminate the appearance of fine lines and creases. Do not apply the setting powder with a swiping motion since this will sweep your makeup off.
Mascara May Hide Eye Bruises
Applying mascara can help to draw attention away from the bruising that is occurring around your eye. Choose a mascara in a deep brown or black color to apply.
Applying mascara to your eyelashes should be done gently using a mascara brush. Applying mascara will assist in eliminating the appearance of any shadows caused by the bruises.
Read More: How to Give Yourself a Black Eye?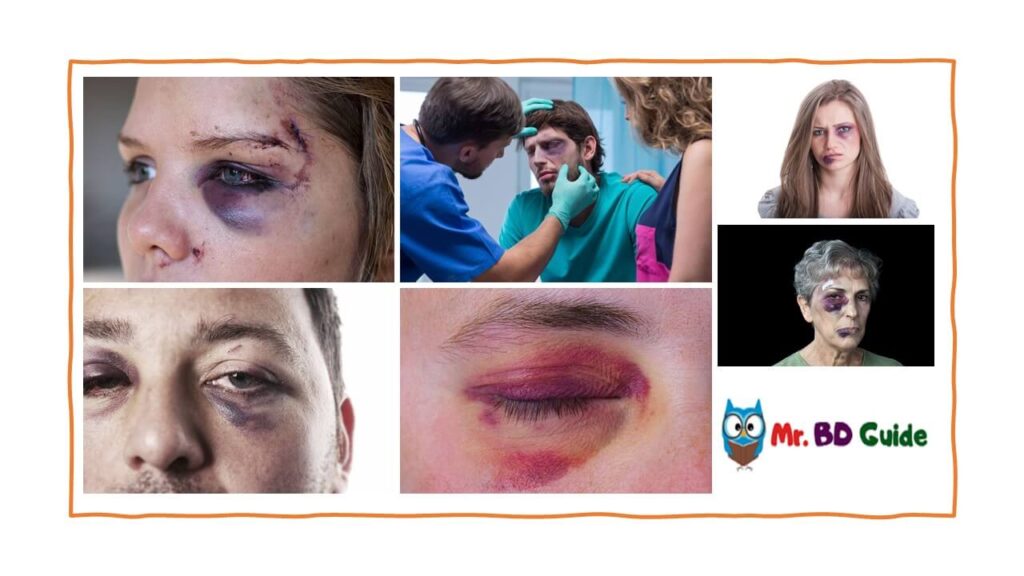 How to Take Care of Your Black Eye?
Apply a cold pack, a towel stuffed with ice, or even a container of frozen vegetables to the skin surrounding your eye, being careful to apply extraordinarily little pressure.
Avoid touching the actual eyeball. To minimize swelling, ice should be used promptly after an injury has occurred. For the next day or two, repeat many times each day.
Cold Compress for 15-20 Minutes After Injury
Use a little towel to compress a bag of frozen peas and hold it on your black eye. The cool metal of a spoon chilled in the fridge may also be applied gently to a black eye. A cold compress made from frozen peas works far better than one made from ice cubes because it can be shaped to fit the contours of your face.
Swelling may be reduced by using a cold compress, which causes the blood vessels to tighten and reduces blood flow. Throughout the following 24 hours, use a cold compress about every 4 hours.
If Your Black Eye Hurts, Use an OTC Painkiller
If your black eye is hurting, you should take over a pain reliever. To manage the discomfort over the following several days, you should go to the drugstore nearby and pick out an analgesic.
Because it thins the blood, aspirin might make your black eye seem worse, so it is best to avoid consuming it. If you are in pain, it is important to get the opinion of a pharmacist.
If You Are Worried, See a Doctor Right Away
If you are worried about anything, you should see a doctor right away. If you experience any of the following: double vision, bleeding from the eye, an elevated temperature, or a strong feeling of nausea, you should go to the emergency room very away.
A black eye is usually not dangerous and recovery from a black eye will take a few days, but if you are worried you should see a doctor.
There are several probable causes for these signs, including an actual bone break, increased orbital pressure, or actual eyeball injury. In addition, if your black eye has not fully recovered after three weeks, you should contact a doctor.
Frequently Asked Questions: How to Cover a Black Eye?
Applying green concealer to a black eye helps minimize red and purple tones. Well over green concealer, blend a standard concealer that produces melanin using a sponge.
Here are a few questions people are asking on different platforms like social media, and other forums. We have answered all of them for you. Let us check them now.
How To Cover a Black Eye Without Green Concealer?
Even a makeup artist has trouble concealing black eyes. The online study suggests using a green concealer to balance red and purple-black eye tones before applying your standard concealer. You can camouflage a black eye without green concealer.
How to camouflage a black eye without green concealer. Mindy says "black" eyes may be purple, blue, green, yellow, or red and change as they recover. You must reduce undesirable tones and brighten around your black eye. Green neutralizes red.
Yellow makes violets. For blue, use orange and for yellow, violet. "Red" and "violet" are often confused. If you do not have green concealer, try yellow. Depending on how red your black eye is, you may be able to neutralize it enough for concealer to work.
How To Cover a Black Eye for A Guy?
To hide a black eye, start by applying green concealer with your finger or a brush directly to the black eye. This will help neutralize some of the red and purple tones that are present. After that, on top of the green concealer, apply a standard concealer that is a close match to the tone of your skin, and mix it in with a sponge.
How To Cover a Black Eye with Foundation?
Of course, it is understood, but if you want your bruise to go unnoticed, you will need to apply a full-coverage makeup recipe. If you need a foundation that will cover everything, including your arms and legs, then try the L'Oréal Paris Infallible Total Cover Foundation.
The foundation's natural finish, extended wear time, and lightweight composition make it an excellent choice for hiding bruises.
Makeup blenders or sponges, such as the L'Oréal Paris Infallible Blend Artist Foundation Blender, are ideal for concealing bruises. You may get flawless, complete coverage by applying your bruise concealer to the blender and bouncing it onto your skin in a stippling motion.
How To Cover a Black Eye with Color Corrector?
It is likely that if you follow makeup artists on Instagram or flip through the pages of any beauty magazine, you will discover a lesson on color correcting, a much-talked-about new fad that requires donning concealer in every hue of the rainbow.
It has been discovered that using purple concealer to cover up imperfections is not a sign of insanity, but a clever strategy. Follow these steps to flawlessly conceal any flaws with a color-correcting concealer.
If you have any imperfections, use the corresponding shade to hide them, and then put your foundation on top of that very softly. Apply your usual concealer over the orange or pink pigments, then tap the makeup down with a beauty blender to hide dark circles.
How To Cover a Black Eye with Drugstore Makeup?
After you have covered your whole face with foundation, tinted moisturizer, or another base makeup product, you should apply a concealer. The concealer will have guidelines to follow.
Brushing a line of concealer under your eyes and dragging or smearing it into your skin is not the most effective technique. This may cause caking and wrinkles.
Use a concealer brush or a cosmetic blending sponge for uniform coverage (these Mini Miracle Complexion Sponges from Real Techniques allow you to apply concealer in the corners around your eyes). If not, use your ring finger to make an inverted triangle beneath each eye, with the tip towards your face.
Concealer may also be applied by dabbing a little amount under each eye and mixing it in. Try lightly brushing a setting powder on top of your concealer to guarantee that it remains in place all day.
Simply remember that little is more. You may always add another layer of concealer if your original application is insufficient.
How To Cover a Black Eye on Dark Skin?
Some people claim that nighttime is when they have their most profound moments of inspiration. Most people also acknowledge that staying up all night to work on a project or to party is a definite way to wake up with dark bags under your eyes.
According to Heather Woolery-Lloyd, MD, founder of Specific Beauty and a board-certified dermatologist, this is more noticeable in those with darker skin tones. They stand out more because they have more melanin in their bodies, she explains.
"This means that it is more difficult to cure dark circles in persons of color than in those with a lighter complexion since the formulas need to be modified to be more successful. Hyperpigmentation, which causes dark circles around the eyes, is also more frequent in women with darker skin tones."
There are several excellent concealers available if you want to disguise your nocturnal activities, but first, we need to figure out why this is happening. Read on to learn about the most typical causes and treatments for dark circles under dark skin.
How To Cover a Black Eye with Green Concealer?
Apply green concealer on black eyes using fingers or a brush. Cover your eyes and cheeks with concealer. Well-blended concealer triangle. Green concealer may reduce red and purple hues in black eyes.
Blunt facial injuries, allergic reactions, sinus illnesses, and face surgery may produce black eyes. Black eyes are easy to disguise with makeup, despite the time spent healing. Apply green concealer on black eyes using fingers or a brush. Cover your eyes and cheeks with concealer.
Mix the concealer triangle well. Green concealer may reduce red and purple hues in black eyes. Green concealer application technique After cleansing, apply primer and foundation. Tapping a green corrector hides it. Finish with a skin-toned concealer. Mix on top.