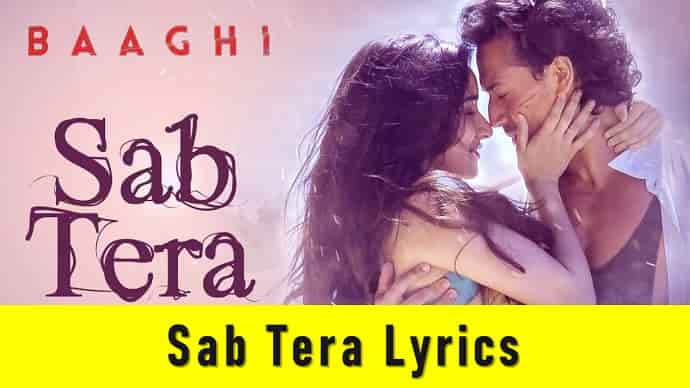 Sab Tera Lyrics is one of the most listened song from the movie BAAGHI. In this movie Tiger Shroff and Shraddha Kapoor played the lead role. Sabbir Khan directed the movie. Sajid Nadiawala produced the movie.
The song Sab Tera, Armaan Malik and Shraddha Kapoor sung. Armaan Malik composed the song and he is one of the finest music composer in the industry. Sanjiv Chaturvedi wrote the song Sab Tera Lyrics.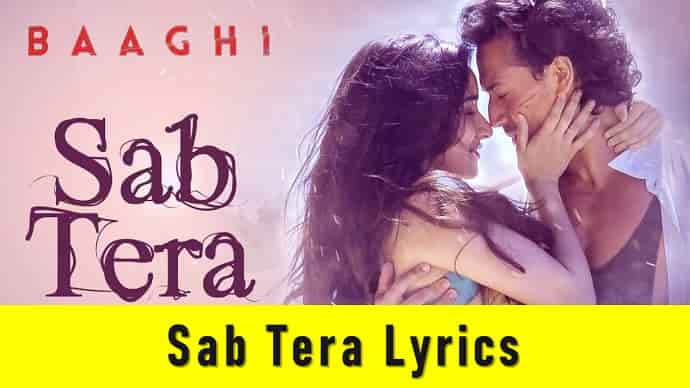 Criteria
Name

SONG

SAB TERA

SINGERS

ARMAAN MALIK . SHRADDHA KAPOOR

MUSIC

AMAAL MALLIK

LYRICS

SANJEEV CHATURVEDI

Song Programmed

Akshay & Akash

Song Mixed And Mastered

Eric Pillai (Future Sound Of Bombay)

Assit Mix Engineers

Michael Pillai , Lucky

MUSIC TEAM

Music Assistants

Yash Narvekar & Zaid Patni

Live Guitars, Dobro & Banjos

Ankur Mukherjee

Backup Vocals

Amaal Mallik

Song Recorded

Uddipan Sharma & Julian Mascerahnas ( Enzy Studios )

MUSIC LABEL

T-SERIES
Sab Tera Lyrics By Armaan Malik
Na jiya zindagi ek pal bhi
Tujhse hoke judaa sun zara
Bin tere mujhse naaraaz tha dil
Tu mila hai toh hai keh raha
Main toh tere rang mein
Rang chuka hoon
Bas tera ban chuka hoon
Mera mujhme kuch nahi sab tera
Main toh tere dhang mein
Dhal chuki hoon
Bas teri ban chuki hoon
Mera mujhme kuch nahi
Sab tera, sab tera..
Sab tera, sab tera..
Phir dil ke raaston pe
Teri aahat jo hui
Har dhadkan jashan mein hai
Yeh inaayat jo hui (x2)
Main toh tujhe milke jee uthi hoon
Teri dhadkan mein chhupi hoon
Mera mujhme kuch nahin
Sab tera, sab tera
Sab tera, sab tera
Hey… ha…
Jis pal tu saath mere
Uss pal mein zindagi hai
Tujhe paake paaya sab kuch
Koi khwahish ab nahi hai (x2)
Mmm.. main toh bas tujhse hi bana hoon
Tere bin main bewajah hoon
Mera mujhe kuch bhi nahi
Sab tera, sab tera
Sab tera, sab tera