Education
How to Check BD SSC Result 2020 Via SMS? All Board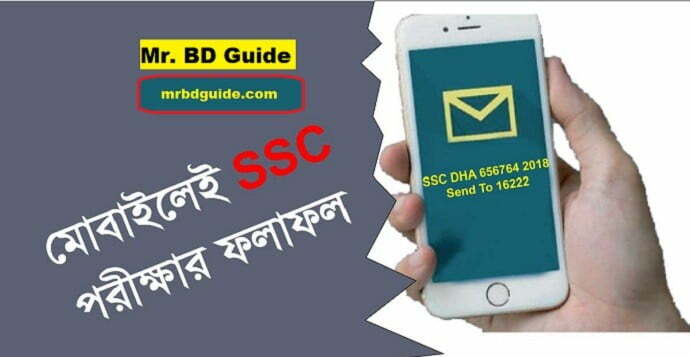 If you are searching the solution for How to Check SSC result via sms then you are in the right place. Bangladesh SSC result 2020 is going to publish recently. All education boards of Bangladesh will release their specific SSC Board results together at a time.
But if you do not know how to check your ssc result online via sms or internet then you may get into problem on the day of result publishing. However Mobile SMS method is easiest system to check and get you SSC exam result.
Today in this post we are going to discuss about "How to Check BD SSC Result 2020 Via SMS". Because most of the time people do not know mobile SMS method to get the SSC Result. So, without any delay let's start to knwo the SMS method.
How to Check BD SSC Result 2020 Via SMS
Now in this digital era, everybody has mobile device atleast for the communication purpose. But when it comes to getting you SSC exam result via your mobile phone then its quite confusing for some people. But mobile SMS method is the best to get SSC examination result checking due to its easy operating system.
SMS Method to get the SSC Exam Result is the most effective way because on the day of result publishing, everybody visits the official website to get the result but the website can not hold these large amount of visitor and they broke down and servers got shut down. At that time SMS method can be to best option to get the result. On the other hand there are so many people yet they are not capable to use internet. So for them also SMS method to get the result is the best solution.
SSC Result Board Challenge 2020 | Re-Security Application
Click Here
SMS Method for SSC Result
SMS is a smart way to communicate and get information without any hassle. How ever SMS method also the most effective solution to get SSC Result Check 2020. You can use SMS method from any kind of mobile phone you have. You only have to send specific code from your mobile to get the SSC result via SMS method. Let's see the process and code sample to send the SMS and get the SSC result via SMS,
Go to your Mobile SMS option and type SSC/Dakhil <Space> <Space> First 3 letters of your board name <Space> Roll Number <Space> 2020 and send this SMS to 16222. When your SMS send successfully then you will get SMS with your result.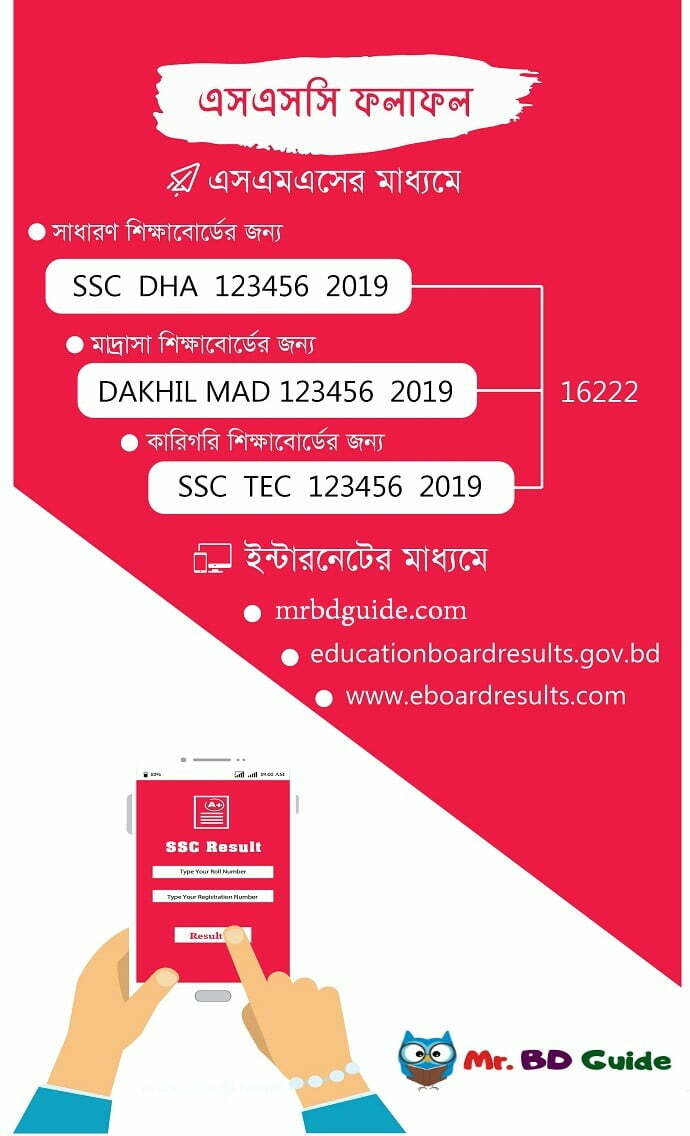 SSC Exam Result SMS Method 2020
If you you are a student of general board then you should follow the below instruction
SSC<Space>First 3 letters of board name<Space> Roll Number<Space>2020 and then send to 16222
Example : SSC Dha 654321 2020
Dakhil Exam Result SMS Method 2020
Dakhil<Space>MAD <Space> Roll Number<Space>2020 and then send to 16222
Exam : Dakhil MAD 654321 2020
Vocational Exam Result 2020 Mobile SMS System
SSC<Space>TEC<Space> Roll Number<Space>2020 and then send to 16222
Example: SSC TEC 654321 2020
Short Code of Education Board
Board Code

SL No.

Board Name

Short Code

01

DHAKA

DHA

02

RAJSHAHI

RAJ

03

COMILLA

COM

04

CHITTAGONG

CHI

05

JESHORE

JES

06

SYLHET

SYL

07

BARISHAL

BAR

08

DINAJPUR

DIN

09

MADRASAH

MAD

10

TECHNICAL

TEC
Another Two More Ways to Check Result
Though Mobile SMS SSC Result is effective but it is now backdated. Because most of the people now have android phone and they also use internet on their mobile phone.
So, in this era of digitization internet wise result searching behavior is growing day by day. Searching SSC result or getting the ssc marksheet people popularly using internet on their mobile phone or tablet, laptop, desktop computer or other smart devices.
The percentage compared to SMS method, internet method to get the SSC result is huge. Now that the technology is updated so, if you got fail to check your result online then you can use other options. There are several option to get the ssc result in this time.
There are several android application available on google play store or apple app store to search the result and get the result on your smartphone. You can easily get the SSC result via internet or using smartphone app.
SSC Result 2020 by Online System
SSC Result Online via internet is the most popular method to get your SSC result with marksheet. But you can also get any type of exam result or any other information via internet very easily.
Most of the time on the result publishing day mobile networks are too much busy on the Result publishing occasion. So due to this reason SMS are sometimes could not be sent and its very much annoying for SSC students. But when it comes to online via internet then you have more than enough options to check and get result.
You can use as many site as you want to check your result. If you fail to check result from official result website http://educationboardresults.gov.bd then you can use another official web site like https://eboardresults.com.
Click Here To Check Your SSC Result
At first go to Bangladesh Education Board authorized website educationboardresults.gov.bd
You can see a input page.
Now select your Exam as SSC/Dakhil
Select your education board.
Type your Roll number
Select your Passing year as 2020.
Now type Math solution according to web page. Example : 5+5=10
If you input all data correctly then click on "Get Result" button.
Now you can see your result with full details.
SSC Result 2020 by App
Now you can also get your SSC exam result by smartphone application or android app. There are several smartphone application by which you can get your ssc results online.
But there is no official android app for getting ssc result online. In play google play store there are hundreds of ssc result application available. But most of them are fake and not usable.
They only show you some advertisements and then redirect to one page to another page. So always remember that you must avoid those mobile application to get your result.
Otherwise you could get into serious hassle. After all these lesson if you want to get your result by application then you can search ssc result app on google playtore and try them.
How to Check BD SSC Result 2020 Via SMS
Now that we have reached ending of our discussion for this topic. But good news is that now you know all of the method to get the ssc result via different methods.
You can use them according to your convenience. But then also if you fail to check result via SMS then you can also use internet to find out you ssc result online.
If you then too fail using all method then there are different groups on facebook, you can use their services to get your ssc result. But don't be so shy to ask someone to help you getting your ssc result online. We are always here to help you.
If you face any trouble to check SSC Result by SMS then you can send your Roll number to our respective Facebook admin . Our admin panel help you to find result. So join our Facebook Page and Groups.