Outdoor
Things To Consider Before Opting For CDL Training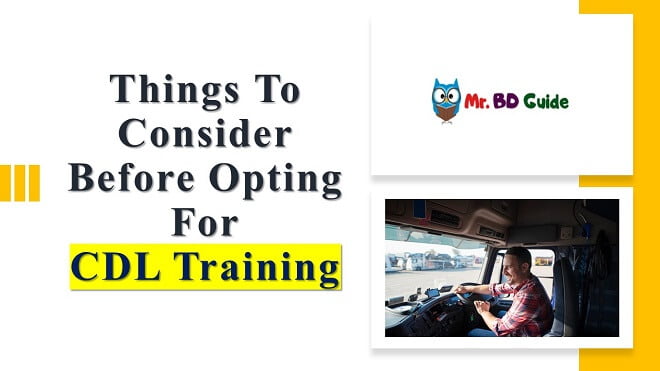 Commercial driver's license or CDL training is used to drive heavy, hazardous vehicles or trucks. They can be used in various settings and have seen tremendous growth in recent years. A CDL allows people to work in the fields of safety, driving, transport, and construction. If you're wondering who hires professional truck drivers, then various large companies require truck drivers with experience in the field of management.
Commercial trucks are used in these areas and are common to have a variety of job opportunities. If you are searching for answers to your online search queries like truck driving schools near me or CDL training programs, this article will help you better understand what you are looking at. Here are some crucial pointers to consider about truck driving school before applying.
Things To Consider While Choosing A CDL Training Institute
When selecting a trucker school, ensure the program is authorized by the FMCSA and can fulfill the requirements for entry-level driver training, including classroom training and field training behind the wheels. Apart from this, here are other criteria to consider while choosing a CDL training institute:
To ensure the trainees pass the test, they must devote more training time than the bare requirement.
They should be recognized by one of the two national organizations regulating truck driving schools.
They should have placement tie-ups with multiple significant employers.
The commercial driver's license has three levels to choose from, and the fees for every level differ. The levels determine what type of heavy truck you can drive. Usually, people who obtained a class A license can work with class B and C vehicles without complications. You can finalize the school depending on your interest, state rules, program fees, and quality.
How To Obtain A Commercial Driver's License
One must go through the knowledge and skill test and medical and physical check-ups to obtain a CDL. The process involves a practical test to check what you have learned and how you can apply it while driving.
The knowledge test understands if you have the concepts clear, and the physical examination focuses on drug screening, eye check-ups and stamina, and other medical issues that one can have. Apart from this, they also check if you have any history of prior arrests or felonies related to motor vehicles that could lead to future problems.
How To Choose A Program
The commercial driver's license training program can last anywhere from 9-12 weeks and can have different courses and levels to train in. The following advanced handling abilities will be taught in a reputable truck driving school:
Learn the most efficient driving techniques
Navigating a variety of traffic scenarios
Handling business and customer service
Final Thoughts
CDL training offers a new start to people and provides opportunities to people interested in this field. Most truck drivers' income is around $30,000-$65,000 a year and eventually surges with experience and skills.
Searches like truck driving schools near me will require more information on what truck driving schools offer to choose better. The points mentioned above can help you select the best-suited program. So, it's time you make the most of it.