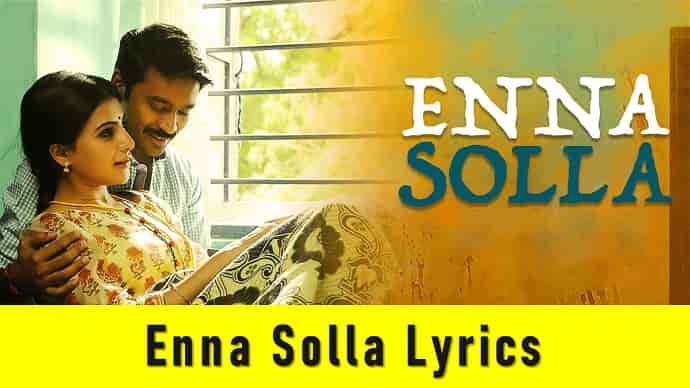 Enna Solla Song lyrics was written by Dhanush. You know that Dhanush is one of the finest actor in Tamil Movie Industry. He worked in Hindi movie as well and he got popular in Bollywood also. People accepted his acting and can be able to relate with his acting.
If we want to talk about the singer of the song, Swetha Mohan sung the song in her very soulful voice. Anirudh handled the music of this song. If you listen to the song then you will understand that every one of the crew of the music video worked very hard to make this song special.
The song taken from the movie Thangamagan. It is a tamil movie and it released in 2016. The song got a large number of view as a tamil song on Youtube and the view count is 28,443,269. The song released on Youtube on Aug 5, 2016.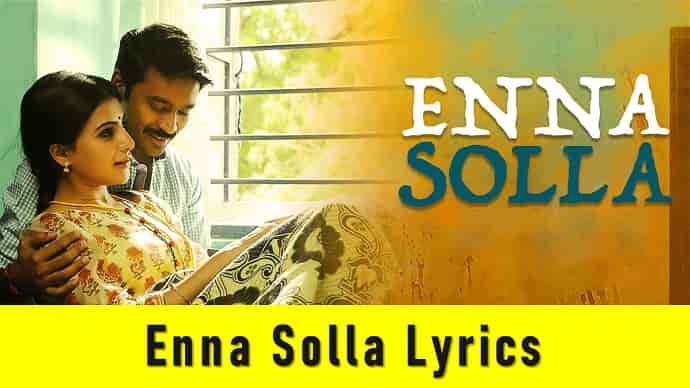 Song Details
Movie
Thanga Magan
Singer
Swetha Mohan
Lyricist
Dhanush
Composer
Anirudh
Year
2016
Enna Solla Lyrics By ‎Shweta Mohan
Enna Solla Aethu Solla
Kannodu Kanpesa Vaarthai Illa
Ennennavo Ullukkulla
Vella Sollama En Vekkam Thalla
Chinna Chinna Aasa
Ulla Thikki Thikki Pesa
Malligapo Vaasam Konjam Kaathoda Veesa
Uthu Uthu Paarka
Nenjil Muthu Mutha Verka
Putham Puthu Vaazhka
Enna Unnodu Serka
Ennodu Nee Unnodu Naan
Ondrodu Naam Ondraagum Naal
Ennodu Nee Unnodu Naan
Ondraagum Naal
Ennodu Nee Unnodu Naan
Ondrodu Naam Ondraagum Naal
Ennodu Nee Unnodu Naan
Ondraagum Naal
Sollaamal Kollamal
Nenjodu Kaathal Sera
Nenjodu Kaathal Sera Moocu Muttuthey
Ennaalum Ennaalum
Kaikorthu Pogum Paathai
Kaikorthu Pogum Paathai Kannil Thondruthey
Sollatha Ennangal
Pollatha Aasaigal
Unnala Seruthey
Bhaaram Kooduthey
Thedatha Thedalgal
Kaanaatha Kaatchigal
Unnodu Kaanbathil Neram Poguthey
Chinna Chinna Aasa
Ulla Thikki Thikki Pesa
Malligapo Vaasam Konjam Kaathoda Veesa
Uthu Uthu Paarka
Nenjil Muthu Mutha Verka
Putham Puthu Vaazhka
Enna Unnodu Serka
Ennodu Nee Unnodu Naan
Ondrodu Naam Ondraagum Naal
Ennodu Nee Unnodu Naan
Ondraagum Naal
Ennodu Nee Unnodu Naan
Ondrodu Naam Ondraagum Naal
Ennodu Nee Unnodu Naan
Ondragum Naal
Enna Solla Aethu Solla
Kannodu Kanpesa Vaarthai Illa
Ennennavo Ullukkulla
Vella Sollama En Vekkam Thalla
Thangamagan – Enna Solla Lyrics