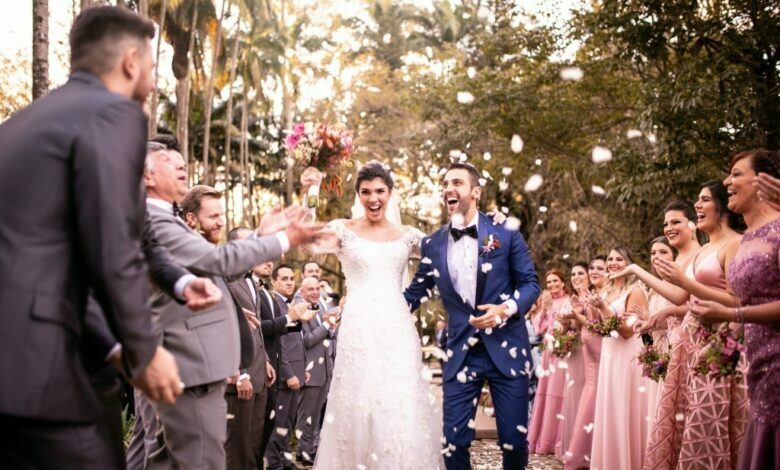 A wedding ceremony is very important in one's life, and it's necessary to move with a plan to cut costs. But how to plan a wedding on a budget of $1,000?
There are many ways to stay on a budget while making a memorable day. Also, after the event, you might not love to be in debt, fading your happiness. So, here are 9 tips for planning wedding ideas on a budget.
Let's hop on!
9 Wedding Ideas on a Budget That Will Save Your Pocket
Planning a wedding is a mammoth task and costly sometimes. Follow these 9 steps to wedding ideas on a budget.
1) Make your budget
One crucial part of weddings is to fix your budget, i.e. how much you intend to spend. If you want to keep in a budget, you can prepare a checklist first.
So, make a list using all the information you can easily afford. It is important to put time and effort into your priorities. You might have some specific aspects where you want to invest more; thus, you can allocate some extra funds in those areas.
2) Visit cheap stores
Choosing wedding dresses is a huge task, and most people spend on dresses. If you decide to get an affordable dress or suit, consider buying them from local or thrift stores.
You can get your dresses from the nearest stores with some tailoring and mending. Even with the customizations, you will receive a much cheaper dress than the new ones.
You can also find wedding dresses online, either new or used. Additionally, you will get a huge collection of low-cost dresses in luxury brands.
3) Minimize your guest list
If there are fewer guests, your costs will automatically get lowered. You will require a small venue, less food, fewer invitations, minimum tables, chairs, etc. When you have a budget-friendly wedding, you can communicate with people rather than trying to know everyone around you.
To keep the guest list very limited, it is very important to start from zero. You can only count persons like grandparents, parents, siblings, a few close friends, and some exceptions. Let people know you're making a small wedding arrangement and talk to the few people who might misunderstand.
4) Choose your venue
Destination weddings are very expensive, so you can stick to your home town. Staying in your city would save a lot of extra expenses like transportations and accommodation for you.
In most cases, people spend the most on the venue, so look carefully for the low-cost venues. Some of the cheapest venues you can get are the backyard, parks, etc. You can use chairs, tents, and tables to create a beautiful look in these places.
5) Make your wedding a family affair
You need your family's help while planning a budget-friendly wedding. The family members can help you through the different tasks at the wedding. For example, you can ask a family member to be a DJ while you provide the sound system.
On the other side, you can divide the tasks equally among the members. Some can help in decorating, while others can work with arrangements. Eventually, you can easily cut your costs.
6) Decide your wedding decorations
The last thing that guests focus on is the decorations. So, you can choose minimalist wedding decorations and select a spot to DIY decorate them in a fun way. This will be less costly as you're making it by yourself.
Here is a list of some budget-friendly decorations:
Copper wired fairy lights
Sequin fabric as table cloths
Simple wedding aisle
7) Choose your food menu
Most people visit weddings for the food menu. So, you can take help from the good cooks of your family. On the other side, you can decide the final menu while the members agree to help cook the food. For instance, if your aunt is good at making desserts, they can prepare desserts or wedding cakes.
Homemade foods are healthier and more delicious than restaurants, so you're showing more affection to your guests. Additionally, making everything at home would lower all your costs. Last but not least, homemade food brings uniqueness to a ceremony.
8) Avoid professional photographers
Nowadays, the photography costs are very expensive. So, if you want a budget-friendly wedding, you can avoid professional photographers. Instead, it would be best to ask any of your friends to take the pictures.
Look around, and you will find someone who loves photography, so they would love to get the chance to take your pictures. Moreover, in the world of smartphones, none leaves a chance of taking pictures. In order, you will also get some best pictures from those.
9) Do your own makeup
Most women got great skills in doing makeup and hair. So, there might be someone in the family who can help the bride to get ready. One of the best ways to save is doing your own makeup, but you can also hire a cheap beautician. Moreover, you might also get your beautician to stay within a limit.
Final Verdict
By now, the mentioned tips and tricks would help to keep your wedding ideas on a budget. You can save a lot by doing many DIY projects. The DIY implementation would create an outstanding look by saving money.
See more: How much does a divorce cost in Canada?