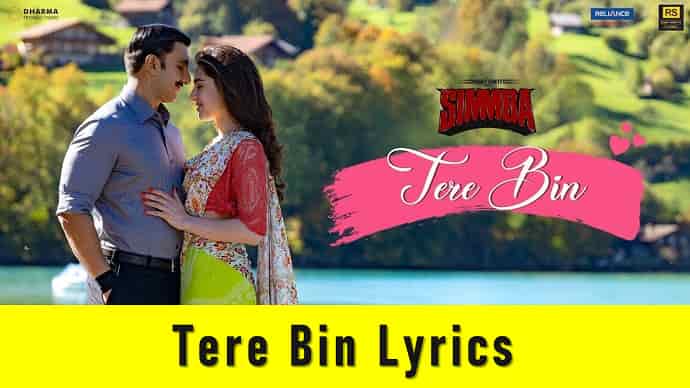 Tere Bin Lyrics Sung By Rahat Fateh Ali Khan from the movie SIMMBA. In this movie Ranveer Singh plays the lead male role and Sara Ali Khan plays the main female lead role. Sonu Sood as well Siddharth Jadhav, Ashutosh Rana also plays secondary lead role.
The song was the romantic title song of the movie. Mainly Rahat Fateh Ali Khan sung the song along with Asees Kaur and Tanishk Bagchi. Also Tansihk Bagchi composed the song and Rashmi Virag wrote the beatiful Tere Bin Song lyrics of the song.
Most interestingly the movie produced by five different producers to mention their name, Hiroo Johar, Rohit Shetty, Karan Johar and Apoorva Mehta.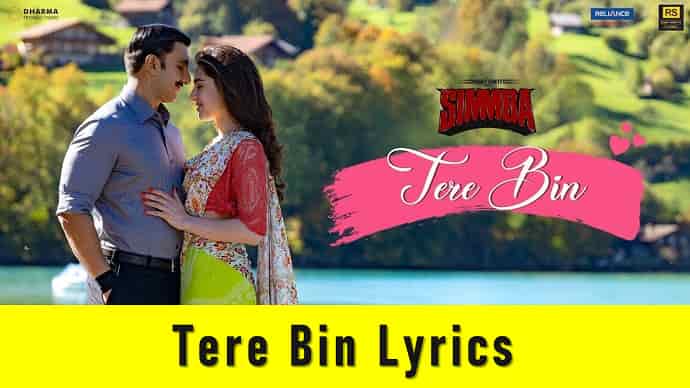 Singer: Rahat Fateh Ali Khan, Asees Kaur, Tanishk Bagchi
Album: SIMMBA
Movie: SIMMBA
Lyricist Rashmi Virag
Music: Tanishk Bagchi
Director: Rohit Shetty
Tere Bin Lyrics By Rahat Fateh Ali Khan
Mmmm… hmmmm…
O re piya
Main taan tere layi
Sau raatan jagun
Jithe jaavein tu
Othey jaave dil
Dass ki main karun
Jo tu russ jaani ae
Dil yeh tutt jaani ae
Tere sang sang raah
Saari katt jaani ae (x2)
Main taan tere naal rehna
Maan enna mera kehna
Meri akhiyon se hona kadi door naa..
Tere bin… tere bin…
Tere bin nai lagda dil mera dholna
Tere bin nai lagda dil mera dholna
Sab chhad jayein tu na mainu chhodna
Tere bin nai lagda dil mera dholna
Nahi lagda, nahi lagda, nahi lagda
Ho.. nai lagda, nai lagda, nai lagda
Tere sang-sang reh ke
Main rang jaaun tere rang
Teri neend se khwaab main apna jod loon
Tu sath na ho to char kadam na chal paaun
Teri raah pe raah main apni mod doon
Ho.. jag bhull jaaye mujhe
Tum nahi bhoolna
Tere sang jeena mera
Tere sang dhalna
Sacchi chaahaton ka hota koi mol na
Tere bin… Tere bin…
Tere bin nahi lagda dil mera dholna
Ke tere bin nahi lagda dil mera dholna
Sab chadd jayein tu na mainu chhodna
Ke tere bin nahi lagda dil mera dholna
Jaaniya… haaniya…
Tu vi sikh kadi dukh sukh pholna
Tere bin nahi lagda dil mera dholna
Tere bin nahi lagda dil mera dholna
Sab chadd jayein tu na mainu chhodna
Tere bin nahi lagda dil mera dholna