Education
Three Efficient Methods for teaching in PreSchool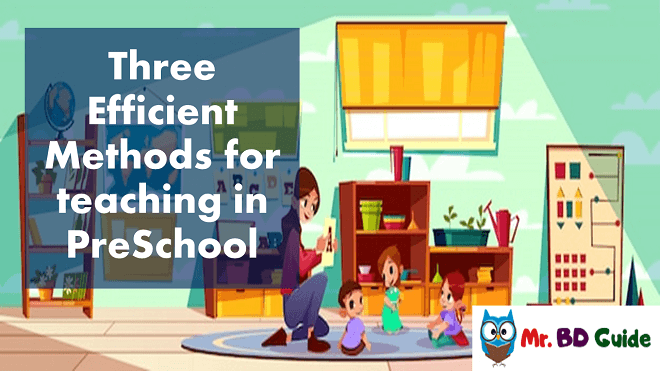 Teaching in preschool is not less than an art. Imagine a person teaching or guiding a bunch of kids coming out of their comfort zone for the first time, and it is not an easy task. The early education of children has a significant role in their life. According to the research, many professional teachers have concluded that the first five years of education are responsible for the development and personal growth of the child.
Different Schools of Thoughts
Teaching at preschool is not just about performing objective tasks like other tasks. A lot of thoughts and subjectivity are in the process of learning. Handling early childhood students is not an easy game. Teachers need to be highly qualified and professional in this. Physiology plays a vital role when it comes to teaching.
Teachers cannot teach many students with the same approach. They need to change their methods and ideologies according to the students. Identifying students' nature is essential because knowing these students will get this concept through a specific approach would make your profession more effortless and more professional.
Many ways are present for teaching, but some useful ways are given below for fast learning.
Montessori Teaching Method
This method was invented in the 20th century by an Italian teacher. The origin of this method is an individualistic approach to education. This method is based on the fact that every student has a natural motivation and creative potential to understand new concepts and things.
Various social, cognitive, physical, and emotional approaches are taken care of as the student's ideologies through their early education. This is one of the oldest and easiest methods for best-in-class preschool.
Waldorf Steiner Method
This independent school movement was developed in Europe by Rudolf Steiner nearly 100 years ago. Typically this is the threefold learning process, which is the engagement of the head, heart, and hands. Other than this, it is dependent on the process of thinking, feeling, and doing.
This method requires learning the concept of understanding in three stages, childhood, age until seven years, and last in the age between 7 to 14 years. This is the time when children learn through feelings and imagination.
Reggio Emilia Approach
This approach includes the active learners of the environment and surroundings. It requires learning concepts to be represented in several forms like drama, music, plays, and growth. Creative projects, collaboration, fun activities, and an emergent curriculum are the significant principles of Reggio Emilia's Approach to teaching and learning methods. The new generation is more inclined toward this approach because this approach is more practical.
In this approach, students feel more comfortable while understanding the concepts. Teachers should be more careful while tracking student growth because it will ultimately reflect on their learning.
Finishing Notes
Note: No matter what teaching method you choose, you need to be more professional and expert in that specific method. Every expert should know how to handle a specific aged student most easily so that a child can understand the concepts.