Real Estate
3 Things to Plan While Building a Real Estate Team for your Business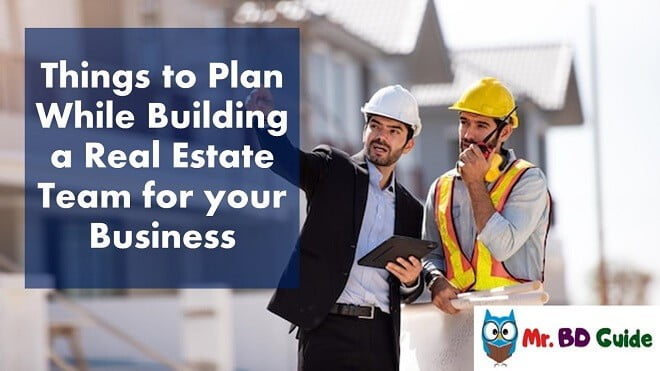 Real estate agents are in huge demand these days. The total value of residential real estate agent marketing in the United States is between $4.2 billion and $16.2 billion.
The industry is rebounding, and many homeowners are looking to cash in on their investment by selling their homes.
If you're a real estate entrepreneur, it's only natural that you'll want to build a team of top-producing agents to help you grow your business. However, before doing that, you must plan what you want from your team and how should your team be.
So, 'how to build a real estate team?' This blog post will answer and discuss three things you must consider while building your team. Read on for more information.
Define Your Business Goals and Objectives
The first step to building a solid real estate team is clearly understanding your business goals and objectives. It will help you determine the type of team members you need and what skills they should possess.
If your goal is to grow your business, you'll need team members who are experts in their field and can help you expand your operations. If your objective is to improve customer satisfaction, you'll want team members passionate about providing excellent service.
Whatever your goals may be, you must communicate them to your team, so everyone is on the same page.
Some of the common types of goals include:
Improving Customer Satisfaction
Reducing Costs
Enhancing Efficiency
Growing Revenue
Set realistic goals that you can measure, so you can track your progress and adjust your plans accordingly.
Decide on the Team Structure
You can structure a real estate team in a few different ways. You can have a group of agents who specialize in a particular area or a body of support staff with one or two lead agents. Both structures have pros and cons, so deciding what will work best for your business is essential.
Some of the essential components of a real estate team include:
A Lead Agent or Broker
One or More Buyer's Agents
One or More Listing Agents
An Administrative Assistant
A Marketing Coordinator
A Transaction Coordinator
Each role on the team is essential, and you should choose each team member carefully. The lead agent will be the face of the company, so it's necessary to choose someone with the right personality and experience. The buyer's agents should know the area and work well with buyers. The listing agents must be experienced in marketing and have a strong understanding of the local market.
Determine What Type of Agents You Need
Some things to consider while hiring is:
Are You Looking for Inside or Outside Sales Agents?
What is the Average Deal Size You're Looking to Bring In?
How Much Experiences Do You Want Your Agents to Have?
Do You Want a Team of Buyer's Agents or a Listing Team?
It would be best to consider whether you're looking for new or experienced agents. New agents will need more training and hand-holding but also bring fresh energy and ideas to the table. Experienced agents will require less of your time but may be set in their ways and not as open to new processes.
Conclusion
So, when you think of 'how to build a real estate team?' you should keep these key things in mind. Building a team is not just about hiring people, but it's about creating a system and culture that will attract top talent and help your business thrive. By keeping these things in mind, you'll be on your way to building a real estate team that will help take your business to the next level.