Law
How to Contact Experienced Family Lawyer?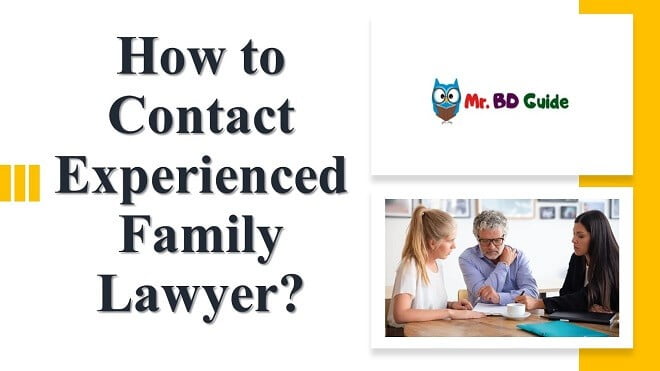 Although everybody wants peaceful, happy, and blissful domestic lives, problems arise for several reasons. You and your partner might not get along and opt for a divorce or dispute the rightful custody of your child. There might even be disputes on financial matters.
But whether you face a contested or uncontested divorce, it is essential to contact a lawyer specializing in family law. Family law focuses on matters like divorce, child custody, and financial issues.
However, some people think twice before contacting a lawyer because they don't know what to expect. For most, it could be their first time getting in touch with an attorney, and they are apprehensive about the entire process.
Legal services offered by lawyers
You will find lawyers that are helpful, easily approachable, and friendly. They will guide you through the entire process while explaining the complications involved at every stage.
It's also interesting to know that some family lawyers prefer self-representation rather than having their team of lawyers do it. But what are some ways of contacting a lawyer, and which practice areas do they specialize in? Continue reading to find out.
Here are some of the legal services that experienced family lawyers specialize in.
Contested Family Law
A contested law case refers to those cases in which the two parties disagree regarding their expectations from divorce or child custody care. Usually, your lawyer will persuade you to reach an agreement with your partner without approaching the court.
Many family lawyers prefer their clients to reach a mutual agreement because a divorce case that reaches the judge is often time-consuming and involves lengthy proceedings. The outcome depends on the judge's decision.
However, your attorney will consider the various aspects of your case before proceeding and provide you with effective representation at the court. They will serve your partner a divorce petition, giving them time to respond, share the necessary information at the court, plead your case with the judge, and try to get a favorable ruling.
Although contested divorces are usually expensive, you will find lawyers who perform these services at $200 USD hourly, which is reasonable and includes a certain retainer fee.
Uncontested Family Law
These are simpler than contested divorce cases, as the two parties involved agree on the outcomes of the divorce of child custody. The process is also quicker, as it does not include trials or other lengthy procedures.
In these cases, you require a lawyer to help you draft and finalize documents to complete the divorce process. You should know that these cases are not appealable, and you don't have the option to challenge the terms in court. However, you will have the option of modifying the agreements, provided your partner and their lawyer agree to it.
The legal fees in uncontested cases are lower as compared to contested ones. Your lawyer will prepare the documents and handle other procedures at approximately 200 USD an hour, and it is advisable to search for lawyers that don't charge more than this amount.
Limited Scope Representation
It refers to an arrangement where your attorney handles certain matters related to a case while you manage the remaining ones. For example, a lawyer could draft some part of a document for you, letting you do the rest.
Before opting for limited representation, you should consult your lawyer regarding the areas you will handle. However, you should also be ready for the consequences of representing yourself in the proceedings instead of your lawyer.
Ways of contacting a family attorney
Phone call
You can call a lawyer's office to discuss the details of your case and get a phone consultation. You will probably receive an email and payment information before the appointment date.
Email
Sending your queries via email is another way of getting answers to quick questions. However, this method isn't helpful for detailed consultations.
Website messaging
You will find a Contact Us form on the home page of the lawyer's website. When you fill out the document, the lawyer responds to it immediately. However, you must know that it is not a substitute for call consultation.
Conclusion
Contacting a lawyer is necessary while dealing with divorce or child custody cases, whether contested or uncontested. Your lawyer will provide the required representation, assist you throughout the process, and ensure you face minimal stress during the case proceedings.